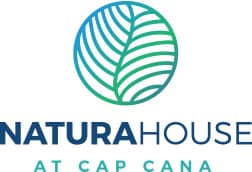 Natura House is a luxury villa in the Las Lagunas sector # 43, within Cap Cana, the most important tourist destination in the Dominican Republic.
Meet Natura House
Download our presentation to know what Mistral Natura House can offer for you and yours.
Project Features and Facilities
Spectacular villa with 857.60 meters of construction and 2,288.66 square meters of land.
Receiver.
Visiting bathroom.
Large interior patio with lounge area, professionally designed.
Large social room with living room and study, completely closed and with air conditioning, as well as a large screen.
Closed dining room with air conditioning.
Gazebo with outdoor living and dining area, plus a bathroom.
Large patio area with infinity pool and heated Jacuzzi with capacity for 20 people.
Summer Kitchen in the patio area with BBQ and Pizza Oven.
Cold kitchen and hot kitchen.
Four bedrooms (4) each with its outdoor showers, closed bathroom and walking closet.
Service room with bathroom for cleaning staff.
Service room with its bathroom for security personnel.
Washing area.
Capacity for eight (8) parking spaces.
One (1) electric charger included in purchase.
Sound system in all social areas of the villa, and pre-installation of automation.
Excellent finish in the materials used.
Direct access to more than 2,000 square meters of park in front of the property and in the associated courtyard.