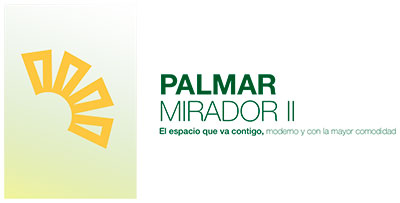 Palmar Mirador II is an apartment project localized in the sector of Honduras, at the corner between Santa Cruz de Tenerife Street and Cayetano Germosen at few steps from the Mirador Sur Park.
Meet Palmar Mirador II
Download our presentation to find out what Palmar Mirador II can offer for you and yours.
Characteristics of the Project
Fascinating views of the Mirador Sur Park and the Caribbean Sea.
Social Area furnished with Jacuzzi and BBQ. Large lobby climatized, designed and professionally decorated.
Total Coverage Electric Plant.
Last generation elevator and two (02) emergency stairs.
Common supply system (Gas-Water). Concierge and maintenance staff 24 hours. Surveillance camera system that controls the accesses of the building.
Intercom system
Two (02) tickets for vehicular access. Electric gates.
Fire system.
Characteristics of the Apartments
Intelligent System Panel Kit (Home Automation) in each apartment
Bathrooms covered with textured ceramics on walls and floors.
High quality modular kitchens.
Porcelain tile floors
Glass panels in the bathrooms of the rooms
Pre-installation of air conditioners in all areas.
Hardwood veneered doors
Glass windows with aluminum profiles.
Payment Plan
Initial 40% and the remaining 60% upon delivery of the apartment in June 2020